Ok. Here's my rant. Ready? Here goes- I'll keep it brief.
A buyer left me negative feedback on Etsy. Ok, so what's the big deal?
I've been buying and selling on Etsy for over five years now and I have 100% positive feedback rating.
A buyer RUINED my rating because she was impatient about getting her package!! I'm so steamed about this!! Ugh, I could go on about how frustrating this is forever but that's not going to fix the issue so I'm going to move on and show you folks what awesome online deals I've scored lately.
***********
I've been wanting a piece of jewelry featuring a creature in resin forever. I finally took the time to search on Etsy and found a shop
(UrbanRiot
) selling these crazy
yellow desert scorpion necklaces
for $1.50 each! YAY!! I'm going to glam it up by putting it on a pretty beaded necklace or something like that. I can't wait to get it in.
I'm gross, I know.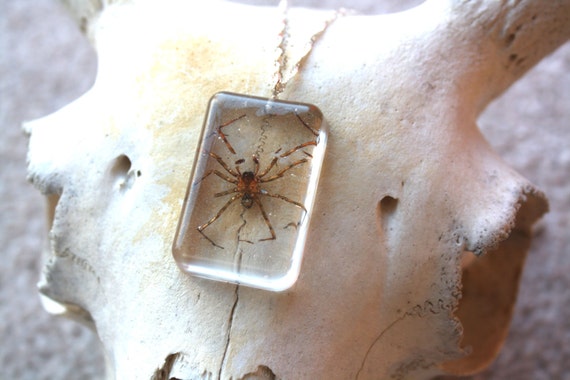 *****
And these. Can you guess what these are?
I'll give you a hint:
EEEEEWWWWWWWWW!!
HAHAHA! It's true! They're Indonesian ear weights!!
Lemme explain - my ears are only stretched to 0ga but I would like to go up to half an inch. (That's really not as big as you think). I've been trying to stretch my lobes to go up to 00ga but it hurts like hell and I don't want to tear my lobes off and have them flapping in the wind behind me like an old hound dog. So I'm going to slowly stretch my lobes by using this ancient and primitive method.
Trust me, I'll stop before I start to look like... that.
Anywho, I found these ear weights on Ebay for $17! Just a few minutes before I bought them I was looking at a similar pair on a different site $66. It's a no-brainer which pair to buy right?
photo taken a few months back. See, my lobes aren't freaky, are they?