I've seen it done twice now. Bloggers as Frida Kahlo.
I'm veeery pregnant right now and I can't really leave the house so playing a wee bit of dress up was just what I needed.
Inspired, I did my makeup and whipped together this outfit in about ten minutes.
Headpiece: Handmade. Leftover from a Halloween costume a couple of years ago (I went as Autumn)
Mexican Dress: Garage sale
Shawl: Ross Dress for Less (years ago)
The shadows on my face almost gave me the Frida fuzzy lip. I kinda like it.
Too bad I couldn't do earrings. My lobes are stretched so I couldn't really think of what to do there.
*************************************************************
I'm 9 months pregnant and this poor dress was screaming for dear life.
The dress was just kinda bunched up around my belly. I couldn't get it any farther. Hahaha it used to go down below my knees, but eh, I wasn't going out anywhere- just dressing up.
No worries, I'll be able to wear this dress again soon.
How did I do?
Here's the gorgeous necklace I'm wearing in the photos. I got it for a lucky last minute $2.40 bid on Ebay from this seller
here
.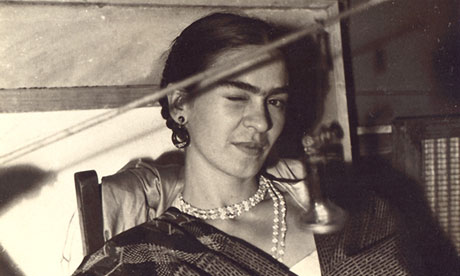 Will you? Will you Frida too?